The winter season in Wisconsin is arguably one of the most beautiful times of the year, but it can also linger on and soon feel eternal. The best way to survive the longer winters here in the frozen tundra is to get into one of the many winter sports.
Skiing in Wisconsin is a wonderful way for you and your family to spend these long, cold months enjoying the fresh air and some quality time together! Plus, many ski hills and resorts offer lift tickets FREE for children with paid adults. Its also one of the BEST Winter Activities in Wisconsin.
So what are you waiting for? Now is a great time to get out and enjoy the slopes with your family. We've gathered up all of the Wisconsin ski resorts and hills out there for you to plan your next snowy downhill skiing adventure!
Before you head out to one of these family-friendly venues on our list of the best ski resorts in Wisconsin, be sure to check in with each resort on social media or by phone to find updates due to current weather conditions.
Late winter blues? Don't worry; many ski resorts can easily continue offering quality snowscapes into March because their north-facing slopes receive less sun and maintain adequate snow quality for much longer.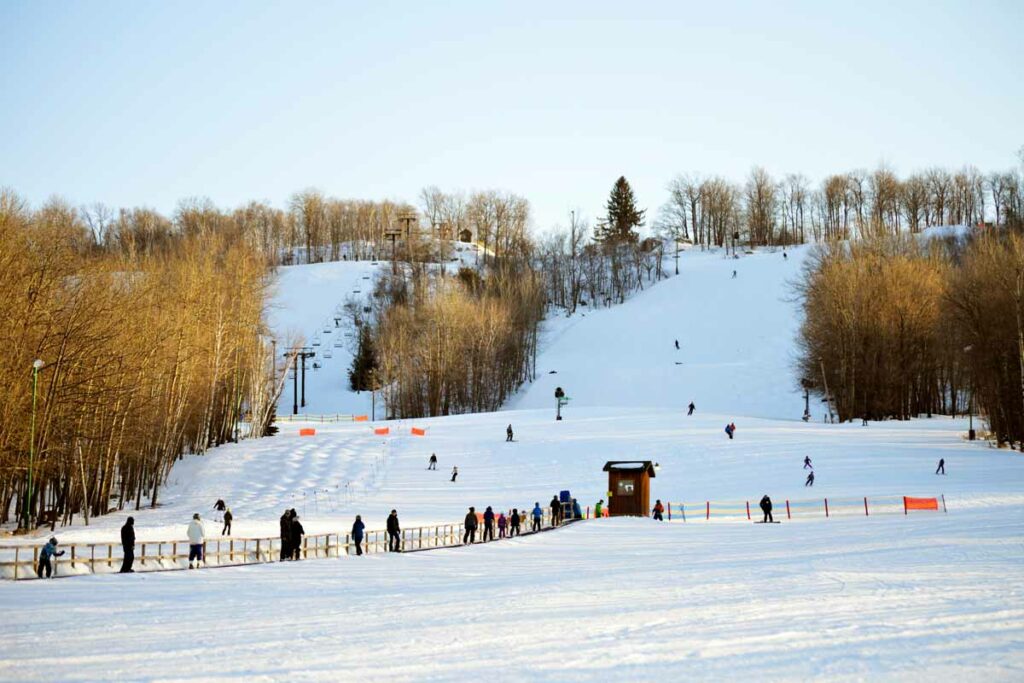 1. Nordic Mountain, Wild Rose
A relatively short drive from the Fox Cities, Nordic Mountain in Wild Rose is a great place to start for a family skiing adventure. You can enjoy skiing, boarding, or snow tubing here with your family. This would be the ideal spot to get a season pass if you're looking to get on the hills and embrace the winter!
2. Sunburst Ski Hill, Kewaskum
Just about an hour away, come enjoy the slopes at Sunburst Ski Hill in Kewaskum. Check out the Sunburst Ski School while you're here! They offer ski and snowboard lessons for all levels of experience. They claim to have the steepest hills and best snow around–with 50 feet more vertical!
3. Little Switzerland Ski Area, Slinger
Start your ski season off right with a trip to Little Switzerland Ski Area in Slinger! And, if you like the great skiing Nordic Mountain has to offer, you're sure to like this ski resort as well as it is managed by the same company. Like many of the ski venues on our list, this one offers FREE lift tickets for children (6 and under) with a paid adult!
4. Ausblick, Sussex
With plans to open in early December, a trip to Ausblick ski resort in Sussex is sure to be a crowd pleaser! This ski club is likely one of the longest running in Wisconsin and dates back to the 1940's. This ski resort does require a membership to use its ski hill and facilities.
5. Granite Peak Ski Area, Wausau
Located at beautiful Rib Mountain State Park in the town of Wausau, Granite Peak Ski Area affords you some of the most spectacular skiing views in all of Wisconsin as it's situated at the highest point around! It is Wisconsin's premiere and biggest ski resort with an impressive 700 feet of vertical height and over 50 trails.
The great thing about Granite Peak, Wisconsin's highest ski resort, is that you can enjoy skiing and visiting an amazing state park at the top of the mountain all in one. Make sure you put Granite Peak on your family's winter bucket list!
6. Paul Bunyan Ski Hill, Lakewood
Enjoy the beauty of Northern Wisconsin at Paul Bunyan Ski Hill in Lakewood! Dubbed 'The Biggest Little Ski Hill in the Midwest', this one is worth the drive. While you're in the area, make a side trip over to Governor Thompson State Park for some breathtaking winter hiking or snowshoeing, cross-country skiing, or even a fun sledding hill for the kids!
7. Kettlebowl Ski Area, Bryant
If you're looking for affordable prices and plenty of small ski area fun in Wisconsin's north woods, then be sure to check out Kettlebowl Ski Area located 17 miles northeast of Antigo on Highway 52!
They offer both downhill skiing and cross-country skiing. Enjoy a day on the slopes or on the cross-country ski trails of your choice! This ski hill is run by local volunteers and is truly a community effort.
The rope tow (no chair lift) will help you get back up to the top of the ski hill. They offer a warm chalet and a handful of warm foods & snacks for you to enjoy while visiting.
8. Cascade Mountain, Portage
Head north of Madison, and you'll find yourself at Cascade Mountain in Portage! Located just 20 minutes from the iconic Wisconsin Dells, this ski hill is hard to miss–you've got a clear view of it from the interstate!
From the highest elevation, enjoy spectacular views of the Wisconsin River.
With acres of skiable terrain, multiple ski lifts, some epicly long runs, and some amazing snow tubing, you and your family will have plenty of winter fun while you're visiting!
9. Devil's Head Resort, Merrimac
Nestled in the beautiful Baraboo Hills and just beyond Wisconsin's favorite Devil's Lake State Park, Devil's Head Resort is one to put on your winter bucket list! It's listed as one of the 'Midwest's 10 Best Ski Resorts' and for good reason.
This full-service ski resort offers lodging with amazing views, an indoor pool with hot tub, a game room, golf seasonally, and even winter cross-country skiing. The kids will find plenty to do here!
10. Alpine Valley Resort, Elkhorn
Another of Wisconsin's major ski resorts is Alpine Valley Resort in Elkhorn! This one is a favorite among those from the greater Chicago areas.
Through their ski school, they offer lessons for all skill levels. The highest vertical drop at Alpine Valley is 388 feet.
They have over 100 skiable acres, and the longest run is 3000 feet. They also offer three terrain parks: Alpine (beginner), Mohawk (intermediate), and Shelter (advanced).
While you're here, enjoy their amazing mountain biking trail, too!
11. Bluegreen Vacations Christmas Mountain Village, Wisconsin Dells
It's true that resorts offer an amazing list of amenities for your family skiing adventure, and Bluegreen Vacations Christmas Mountain Village is certainly no exception. From skiing, to cross-country ski trails, to an indoor pool with children's play feature, to a video arcade room, to various organized activities, your winter getaway will be far from uneventful. And, what's not to love about being right here at the world-famous Wisconsin Dells!
12. Tyrol Basin, Mount Horeb
Located in South Central Wisconsin, Tyrol Basin, just outside of charming Mount Horeb is hands down a local favorite. This is the perfect place to enjoy a day of family skiing near the Madison area. They offer several slopes of varying difficulty and 5 lifts including one called the magic carpet alongside the gentlest slope. With acres of terrain for skiing, there is a hill to match everyone's interest and experience here at Tyrol Basin!
13. Grand Geneva Resort, Lake Geneva
If you're looking for it all in a resort, look no further than the Grand Geneva Resort in Lake Geneva! Truly grand and rated by one travel magazine as "the #2 Resort in the Midwest," prepare to be amazed.
Beyond skiing, they offer several other family-friendly outdoor winter activities such as ice skating, sledding, snowshoeing, and cross-country skiing. In addition to excellent lodging, they offer an indoor pool and even a spa. Enjoy all the fun of Lake Geneva, one of Wisconsin's top tourist destinations.
14. Wilmot Mountain Ski Resort, Wilmot
Located just north of the Wisconsin:Illinois border, Wilmot Mountain Ski Resort, in recent years owned and operated by Vail Resorts, is a long-time favorite for those in the greater Milwaukee and Chicago areas! You can enjoy skiing, snowboarding, and snow tubing while here at Wilmot.
Feeling a little uneasy about hitting the slopes? Book you and your family a private ski lesson to boost your confidence.
15. Mount La Crosse Ski Area, La Crosse
Located just south of beautiful La Crosse, Wisconsin, Mt. La Crosse offers some of the most diverse skiing and snowboarding terrain around!
In search of the longest trails at Wisconsin ski hills? Among the 18 slopes and trails at Mt. La Crosse, they boast Wisconsin's longest run, gentle Mileaway, to Mid-America's steepest trail, Damnation.
You may even catch some glimpses of the majestic Mississippi River as you sail down the slopes here at Mt. La Crosse.
16. Christie Mountain, Bruce
Another Northern Wisconsin gem, head over to Christie Mountain in Bruce, just north of Eau Claire, for your family's next skiing adventure! As the legend has it, this ski hill was hand-created by the elusive Blue Hills Beast (think Abominable Snowman).
One highlight is their outdoor fire pit to enjoy a rest & get toasty warm while you're out on the slopes.
Finding yourself in the area during summer? Check out their super cool rock climbing experience at The Crag!
17. Whitecap Mountains Resort, Upson
Come enjoy the beauty of the ancient Penokee Mountains in far Northeastern Wisconsin at Whitecap Mountains Resort. With over 400 acres of terrain, there is plenty of skiing adventure to be had!
They offer 3 ski mountains and 43 trails of varying availability. Resort amenities include ski-in, ski-out access, ATV/snowmobile trails, and an indoor pool/hot tub.
Mountain biking, hiking, disc golf, and fishing in adjacent Weber Lake are just some of the recreation you can enjoy in the off-season!
18. Trollhaugen Outdoor Recreation Area, Dresser
Located a stone's throw from the Wisconsin-Minnesota state line, Trollhaugen Outdoor Recreation Area in Dresser is a family favorite! They offer both downhill skiing and snow tubing at affordable prices. They offer a variety of lessons for those who are both new to the sport and rather seasoned, too.
19. Mount Ashwabay Ski & Recreation Area, Bayfield
Located on the shores of Lake Superior, Mt. Ashwabay is nestled at one of the most northern points in Wisconsin. They offer not only downhill skiing & snowboarding, but also cross-country skiing, snowshoeing, hiking, fat biking, and even skijoring & dog trails! They offer 12 alpine runs that span over 65 acres, all while overlooking majestic Lake Michigan and the Apostle Islands National Park!
20. Mont du Lac Resort, Superior
Located along the Wisconsin-Minnesota border near Duluth, MN, Mont du Lac Resort is the perfect spot to plan a quintessential Wisconsin winter ski getaway (if you don't mind the 5+ hour drive!). Enjoy a stay at their dreamy mountain lodge as you enjoy the slopes.
While here, make sure you visit the Outta Bounds Tubing Park. This is the only tubing park in the country that careens through the woods for the ultimate, speedy snow tubing experience!